Co-Driver MobileOffice
A smartphone application for managers who want to keep an eye on their fleet at anytime and anywhere.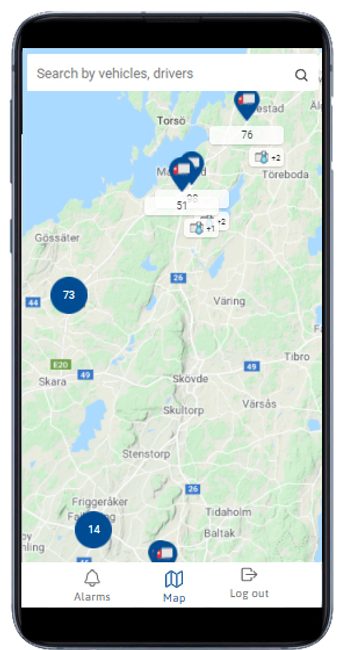 Co-Driver MobileOffice is the mobile version of our back-office application for the transport management team. It provides a set of Fleet Management services to manage your fleet and drivers when you are out of the office.
Modern and user-friendly interface
MobileOffice is built with the user in mind, to provide quick and easy access to all the resources. You're fleet positions are accessible in the map in real time. In addition, you are alerted on the deviations by the alarm module.
Navigation
The Main services can be found at the navigation bar at the bottom of the screen in the app.
The MobileOffice app is a hybrid app that can be explained as a mix between a native app and a web application. Hybrid apps are essentially web apps that have been put in a native app shell. Once the app is downloaded the user experience is similar to a native app. The MobileOffice run on both Android and IOS.
Key features
Fleet Positioning
Automatic coupled devices
Tachograph Activitiy
Alarm Module
Alarm Module in MobileOffice
Set up your alarms and warnings in the backoffice application Weboffice according to your business preferences. Get notified at any time of any deviations on your smartphone or tablet to solve problems immediately and avoid unnecessary costs.
Requirements
Part of the Weboffice package, no additional fee.
For tablet and smartphone
Available on iOs and Android
Benefits
Access all your resources (vehicles, trailers, containers, etc.) in ONE application

Direct and quick access to your fleet activities in the map

Get alerted of any deviation at any time

Keep control on your fleet even when you are out of office

User friendly solution

Compatible with most modern android and iOs devices.