Temperature monitoring for any size fleet
There are a wide range of products that require temperature control including medicine, food and other perishables. Ensure your temperature controlled goods are maintained and delivered within the correct conditions with real-time temperature monitoring and alerting.
Understanding temperature monitoring systems
Ensure your temperature sensitive goods are maintained and delivered within the correct conditions with our fully integrated temperature monitoring and vehicle telematics solution.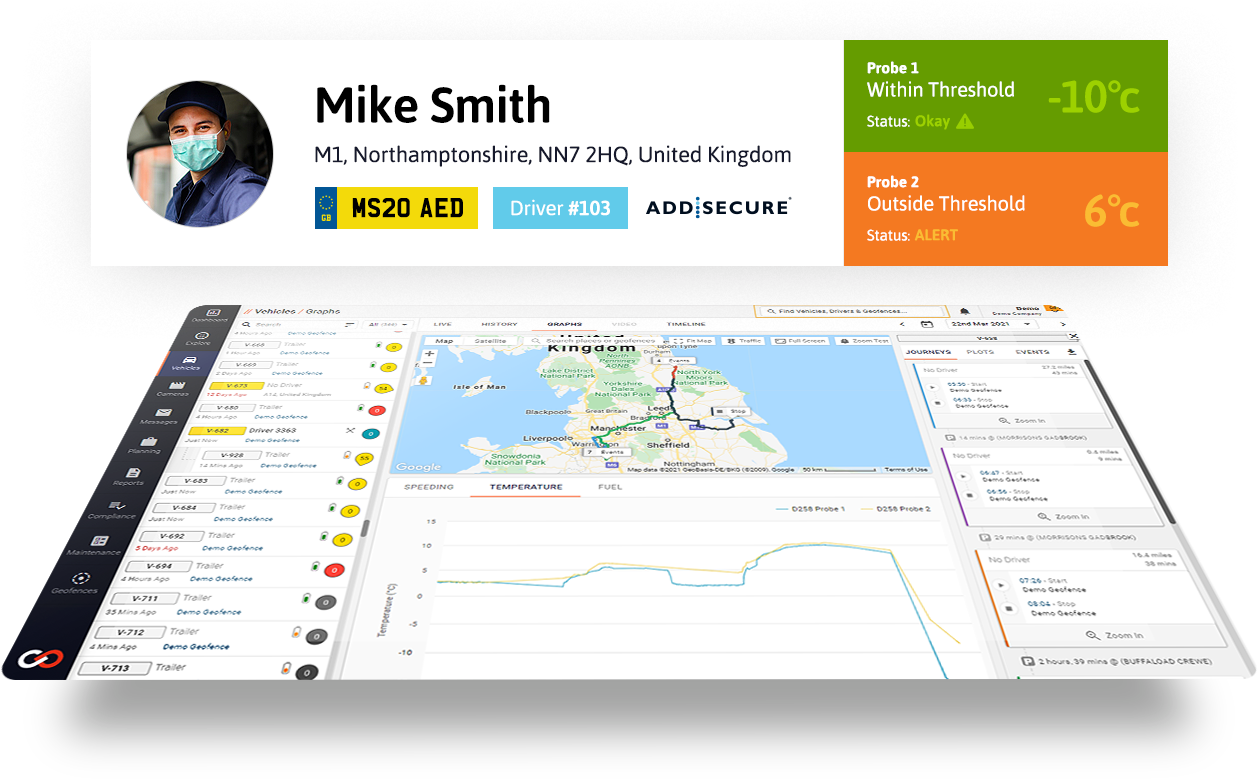 What are the benefits of using a temperature monitoring system?

Remain compliant
Keep compliant with strict industry legislations with comprehensive audit trails and audit logs of every journey.

Protect your goods
Monitor the status of your temperature-sensitive goods in real-time and receive instant alerts of any temperature breaches.

Enhance customer service
Keep your customers in the loop with live ETA alerting and proof of temperature reports.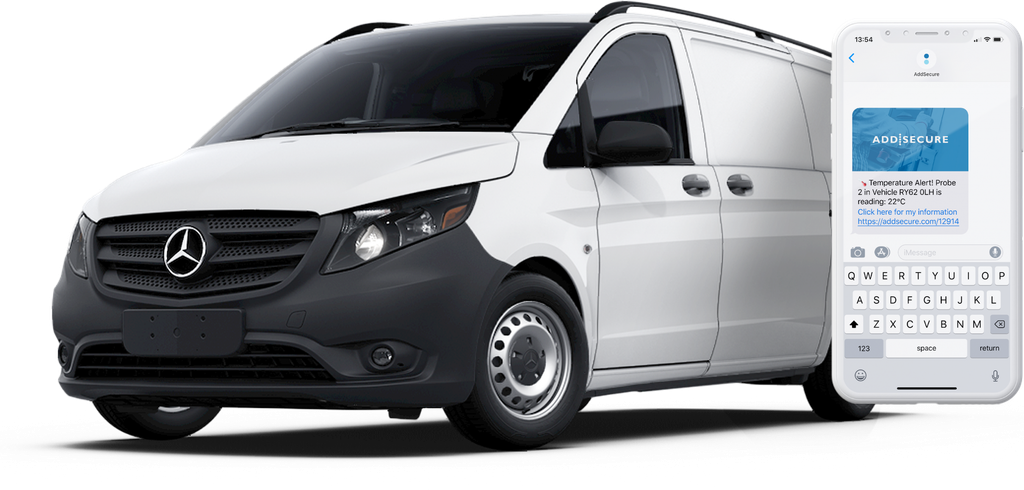 Stay Alert with the AddSecure temperature monitoring system
Our temperature monitoring systems give you peace of mind and the ability to proactively manage your temperature controlled goods with live temperature threshold alerts and switch status notifications. Fleet operators can receive these via SMS or email, and drivers can receive an in-cab notification, allowing you to intervene and prevent delivery spoilage.
Proof of Delivery with temperature monitoring
Stay ahead of industry requirements and cliental demands with AddSecure's start-to-finish Proof of Delivery system, giving you a full and detailed overview of your delivery journey. Schedule temperature reports to go straight into your customers inbox upon delivery completion, providing peace of mind and a strong line of communication that their temperature sensitive goods are delivered in the correct conditions. Or alternatively, provide customers with an on-site print-out report from our market-leading data logger, the Transcan Advance.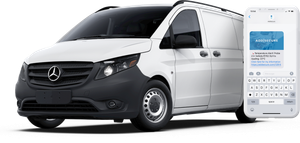 Connected temperature monitoring solutions to protect and optimise your temperature-controlled deliveries.
Get in touch today to schedule a FREE demo.
Get a FREE demo!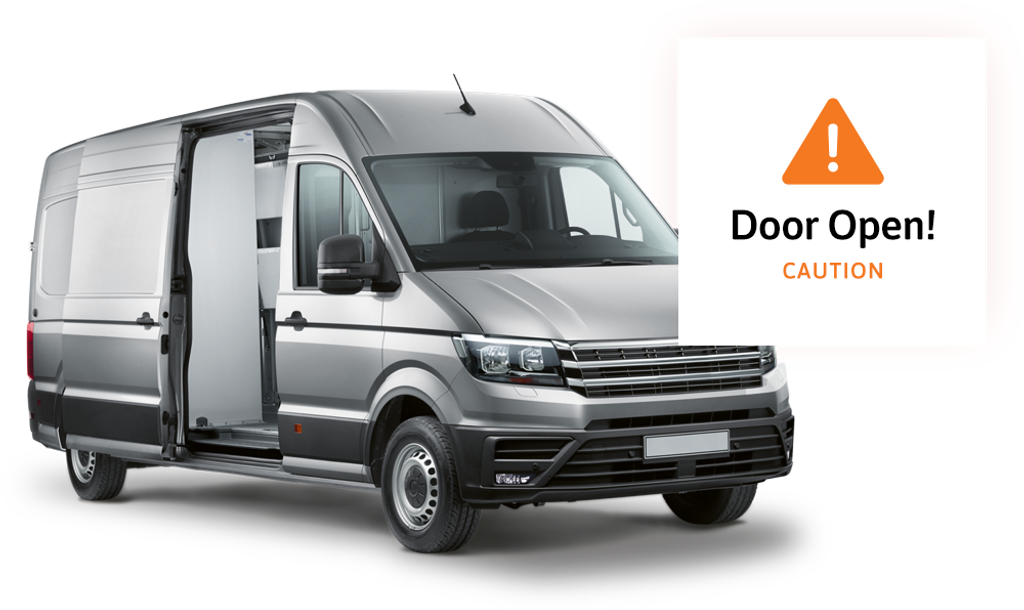 Door Opening Alerts
With the ability to fit door sensors to any vehicle or trailer, you can monitor each and every door opening and closing event, helping to protect against theft and ensure your goods are being maintained within the correct conditions. These events are also displayed on the temperature log graphs to explain sharp increases or decreases in temperature.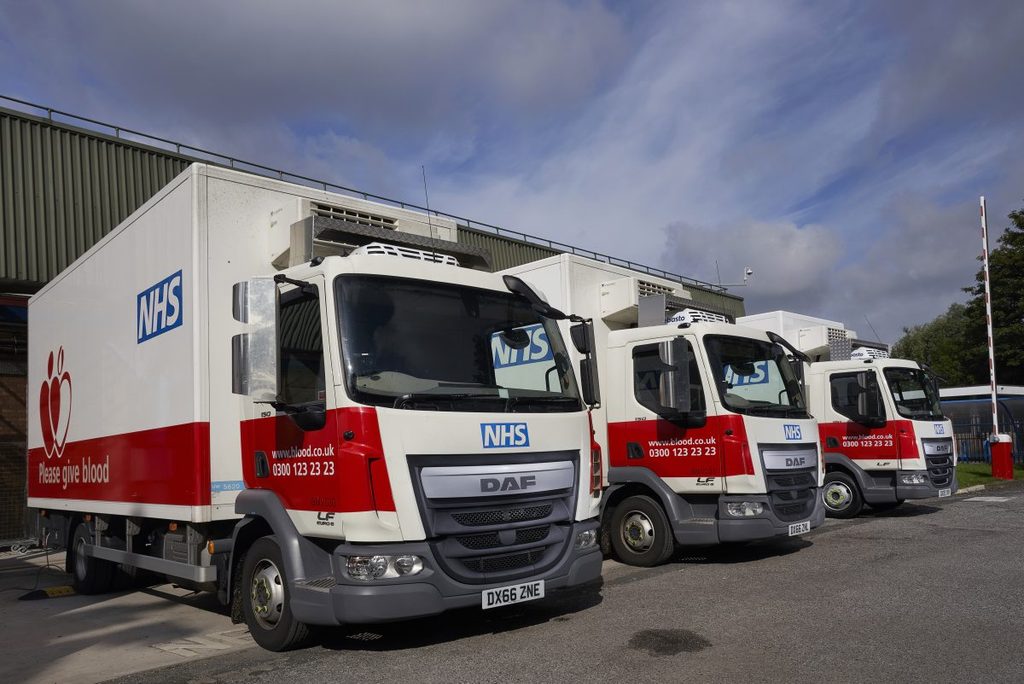 "Due to the critical nature of our product, the window of opportunity to correct any issues with the temperature during transport is very small. Upgrading to the Transcan Advance gave us greater visibility of the mutliple temperature thresholds, with in-cab alerting for immediate action by the driver."
Tom Hammond, National Fleet Services Manager, NHS Blood and Transplant
Featured fleet managment products