Charlotte, congratulations! How does it feel to be nominated as one of Sweden's 50 best recruiters?
– It's amazing to have been nominated and I feel honored to be included in this list!
Why do you think you are considered to be such a good recruiter?
– I believe I am good at getting truly involved in the recruitment process with guidance and advise, and skilled at making assessment of people, matching them with the company and the role.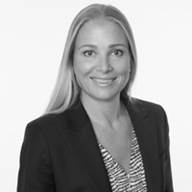 What do you think is the most important thing to think about when working with recruitment?
– I am convinced that it is crucial to take the time to create a solid requirements profile to begin with. Then it is important to be openminded and to have a good interview template to stick to and apply the same template to all candidates you interview.
The rest of us at the fast growing AddSecure are lifting our hat off for Charlotte and feel honored that such a well-known and skilled recruiter has chosen to work with us!
Read more about HR Sweden's appointment (in Swedish):
https://blogg.hrsverige.nu/2019/11/06/sveriges-basta-rekryterare-2019/