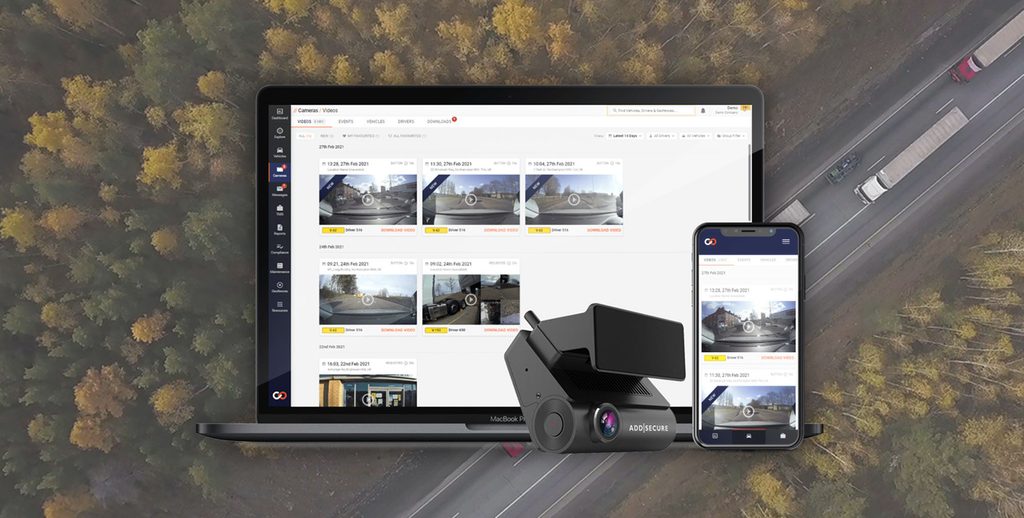 When originally developed, a Vehicle Camera System was simply a camera fitted to a vehicle's dashboard, enabling it to record the road ahead. Its earliest applications centered around insurance claims – using recorded data to establish fault in an accident. 
However, these days Vehicle Camera Systems can be much more sophisticated and carry a far wider range of applications and benefits. A comprehensive system comprises a connected system of software and hardware that businesses use to minimise risk and enhance driver safety. A 'system' could still be a single forward-facing dashcam, or it could consist of multiple cameras fitted both outside and inside a vehicle. 
The cameras can be installed to cover the interior of cargo holds, mounted on dashboards, or fixed to the vehicle exterior. They are connected to software, enabling numerous benefits: 
Reviewing incidents

 

Supporting driver training

 

Monitoring driver performance

 

Track safety improvements over time

 

Improving road safety

 

Combatting fraudulent claims

 

Enhancing your duty of care towards your drivers

 

Reducing the risk of vehicle damage

 

Reducing insurance costs

Brand enhancement

 
D

ifferent types of vehicle camera systems?

 
There are many popular in-car camera systems designed for single vehicle use – usually private vehicles. However, these have limited functionality and are not ideal for commercial fleet purposes. They usually make use of a memory card that needs to be manually removed to download footage.  
Vehicle camera systems for commercial fleets are much more versatile and robust. They usually include multi-camera solution options. AddSecure systems, such as the new RoadView camera use cloud technology to give immediate data access that can be viewed remotely immediately following any incident. They connect to a telematics device that provides Wi-Fi and will identify and record safety-related events, such as excessive speed and sharp braking. These more sophisticated systems automatically upload video footage to the cloud, making it easy for your back-office staff to review safety-related events and coach drivers effectively. 
There are numerous types of vehicle camera systems for commercial fleets.  
Forward-facing dash cameras
These are designed to capture collisions or near-misses. They are mounted on the dashboard or windshield and have a single lens that faces the road ahead.  
Dual-facing dash cameras 
These are similarly mounted to face forward, but they have an additional lens facing into the cab, which captures in-cab activity. This makes them ideal for identifying driving behaviour and come in especially useful during driver training. Dual-facing cameras also serve the purpose of exonerating drivers from blame by showing how attentive they are at the time of any incident. 
Exterior cameras 
These are mounted on the outside of the vehicle and can offer a 360° view. Typical applications include identifying 'side-swiping' incidents from other vehicles and exonerating drivers from blame, where appropriate. 
Backup cameras 
Backup cameras are a type of exterior camera. Sometimes called 'rear-view cameras', they are mounted to the rear of your vehicle on the outside and record the road behind. Their main functions are to  
aid reversing manoeuvres

 

identify fault with rear-end collisions

 
Interior cameras 

These are mounted in various locations within the vehicle or trailer. They help support passenger safety and cargo security. 
What are the most important features of a vehicle camera system?

 
When you choose to invest in a vehicle camera system, you'll need to consider the following features – 
HD video quality
Strong video quality is vital for accurate reviewing of video footage. You need a camera with a wide-angle lens to give you a broad field of vision, as well as a high dynamic range (HDR), ideally, 1080p or full HD – especially important if you need to be able to easily read license plates and identify whether or not a driver has their eyes open or closed. 
Integrated Artificial Intelligence
AI-enabled cameras will analyse the road and driver behaviour in real-time, enabling proactive detection of dangerous driving habits, such as distracted driving and tailgating. They can also warn drivers of an impending collision. 
Internet connectivity
If your camera isn't connected to the internet, you will have to manually retrieve footage from the vehicle before it's overwritten. Internet-connected cameras will automatically upload safety-related event footage to the cloud, giving you real-time access for coaching or exoneration. This convenient, remote access to footage can be helpful for investigating false claims or calls from the public. 
Automatic harsh event detection
A sound telematics device will have a built-in accelerometer and g-sensor (for motion detection), and GPS tracking. This enables the detection of safety-related events, such as sharp turning and excessive braking, as well as collisions. The system will automatically upload footage from before and after the incident for your people to view. 
In-cab voice coaching
Top-of-the-range cameras have a built-in speaker that plays in-cab messages for unusual events it detects. This could be unfastened seat belts, speeding, or excessive hash braking. The system alerts drivers to potentially unsafe behaviour in real-time and has been shown to improve driver conduct and reduce accidents. 
Low-light or night vision
These are designed for night-time use. With their High Dynamic Range (HDR) and infrared LED to ensure night-time footage is clear. 
Easy installation
With a fleet of dozens or even thousands of vehicles, easy installation of your vehicle camera system is crucial.
Mobile app for drivers and fleet managers
Ideally, your vehicle camera system will come with a smartphone app. This will enable safety managers to easily access footage at any time, making it easy to send footage to drivers, police, or insurance assessors. 
As Europe's leading provider of cloud-based video telematics, we are constantly pushing innovative boundaries. Protect your fleet against false claims. Decrease incident rates and improve driving behaviours with our integrated vehicle camera systems.