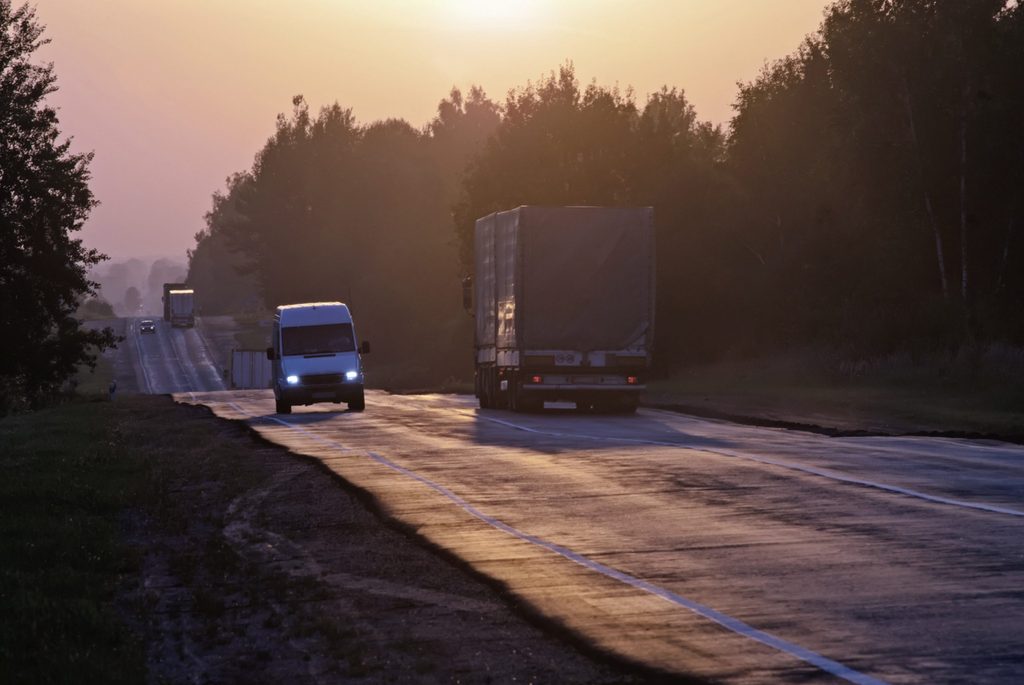 Problems maintaining the correct temperature can result in significant financial losses, as well as claims from end-users. Fleets delivering pharmaceuticals and medicinal provisions must maintain the trailer temperature within the required parameters during transportation.
1. Starting Point Inspection
We think it should be a requirement for all transport operators to start each trip by inspecting the vehicle. Paying special attention to the Transport Refrigeration Unit and the trailer itself. Especially when the temperature of the cargo, such as pharmaceuticals, must be maintained and monitored.
It is possible that with a different load, the temperature requirements might be different. For example, a multi-compartment solution may be required, where separate areas of the trailer need different thresholds.
There could possibly be previous undetected issues that can potentially lead to irreversible load damage during transport. This could be prevented with a thorough visual inspection.
As far as the walkaround vehicle checks are concerned, we strongly recommend they become a mandatory requirement, regardless of the vertical you operate in.
We all remember the days where vehicle checks were synonymous with lots of paperwork. Sometimes losing documentation, and generally spending a huge amount of time spent checking the paperwork itself. Taking the necessary follow-up actions, and filing everything diligently.
Death by paperwork, so to speak.
While it's true that some businesses still operate that way, the number is, fortunately, getting smaller and smaller. Telematics companies now can offer an all-in-one online solution including paperless, customisable walkaround check forms.
Form submissions alert the office-based staff in real-time of any issue with the vehicles and allow them to react almost immediately. For big fleets, this means saving days a week in terms of admin tasks, as well as increasing safety for the drivers and the public.
2. Pre-cooling
When there is a connection between the storage unit and the container, pre-cooling your cargo at the correct temperature is important to make sure the quality isn't compromised during transport. A particularly important thing when transporting pharmaceuticals.
This applies regardless of the temperature set by the manufacturer and should be monitored live during the journey. This is achievable by setting appropriate trigger alerts and thresholds.
It is worth noting that the container should reach the set temperature before the operator starts loading the pallets.
Especially in the case of multi-compartment temperature solutions, we recommend, if possible, to bring the temperature down at lower speed. It might take longer to do so, but it is likely to have significant savings in fuel costs.
3. Correct loading practices
The first concern when loading perishable products, of which medicinal products transport is a prime example, is to allow the correct airflow and circulation.
If airflow and circulation are compromised, there is a chance of hot spots, which if undetected can impact the quality of the entire cargo.
4. Temperature monitoring
Your fleet should already have a temperature monitoring solution installed on all vehicles used for refrigerated transport.
The point of a temperature monitoring solution is to record the temperature data and to give you the opportunity to remotely access that data. It also prevents potentially critical temperature deviations by alerting the office-based staff and the driver in real-time.
Any delays could do irreversible damage to the cargo and cost your business serious money in both loss of cargo and claims from end-users.
For your own safety and to stay clear of costly claims, your temperature monitoring system should be able to provide digital as well as physical printouts of temperature recordings of the journey.
We also recommend the use of humidity sensors for environmentally sensitive products. We also strongly advise calibrating the probes every 6 months.
5. Telematics
In the past few years, temperature monitoring and telematics have become two sides of the same coin. You could install them separately, for sure, but you would lose out on perhaps the most important benefit a telematics integration gives.
An integrated solution provides real-time monitoring, alerting fleet managers the instant trailer temperature falls outside of the set parameters. It is the difference between resolving an issue before it even becomes a problem and losing a load all together.
Integrated telematics should also offer job management, route planning, CANbus, Tacho integration, paperless and customised vehicle checks, GPS tracking, ePOD integration, and camera systems.
In conclusion, maintaining the integrity of medicinal products during transportation requires a coordinated effort, strict adherence to temperature control protocols, and continuous monitoring to ensure patient safety and product efficacy.
Are you compliant with the Green Guide?
As part of the Government's efforts to improve safety and encourage consistent, high-quality standards in pharma transportation and the distribution of medical products, the Medicines and Healthcare Regulatory Agency (MHRA) has provided rules and guidance in what is commonly known as the Green Guide.
In the past few months, it has become apparent the guidance has turned more and more into must-haves. The industry has reported a sharp increase in inspections across the supply chain, with particular emphasis on the transportation of refrigerated goods.
Below you'll find a downloadable summary of the requirements around: packing and transportation of refrigerated medical products; quality risk management; and the employment of third party couriers. For more information, as well as guidance in other areas, please refer to: