With a large fleet of diesel HGV's weighing up to 80 tonnes, it was important for L Lynch Plant Hire & Haulage to reduce their large CO2 footprint. Lynch began their search for an all-in-one solution that would reduce the environmental impact of their fleet, improve driver safety, and enhance their overall fleet operations.
After installing AddSecure's integrated telematics platform, Verilocation, L Lynch's operational efficiency went to the next level, with major improvements to fuel efficiency and accident rates in particular.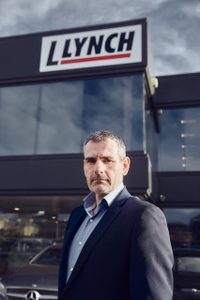 "From our perspective the results speak for themselves. Fleet related incidents have fallen by 30%, our environmental credentials have improved, and the integrated system has made an impact on driver performance." - Steve Bremner, Head of Transport Services & Compliance
After trialling a few solutions on the market, Stephen Bremner, Head of Transport Services and Compliance found AddSecure's Verilocation platform to be the best fit for L Lynch:
"After trialling different market offerings it became clear that AddSecure best fit our business' needs. We were looking for a solution that could improve visibility of our fleets' operations and we found the Verilocation  platform was a good one-stop-shop for us in bringing together a number of areas within our business into a single, user-friendly platform."
The 'all-in-one' solution provides Lynch with Direct Vision left-turn alarm and sensors, an integrated multi-camera system, detailed driver performance data, and remote tacho download with Driver ID.
"From the multi-camera solution to the detailed driver behaviour and fuel efficiency reports, the Connexas team were able to work with us to optimise our business operations. By centralising our fleet information, we could access and analyse all of our fleet data in one place."
Download the full L Lynch case study
Discover how L Lynch have achieved a safer and more efficient fleet with their Head of Transport Services and Compliance, Stephen Bremner.
Find out how to improve fleet safety, reduce your insurance costs, and optimise your fleet by contacting us today.