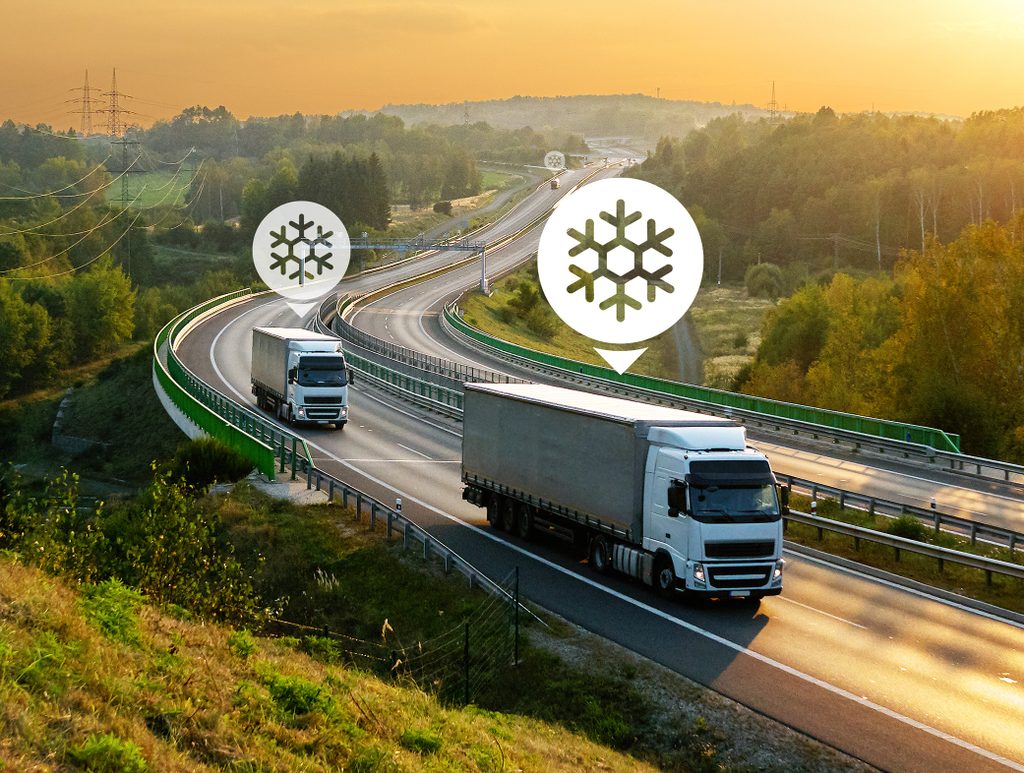 In this article, we're going to look at the concept of cold chain fleet management. We'll look at the features of modern-day temperature control technology, why it matters and how AddSecure
protects your clients' temperature-sensitive goods
keeps you compatible with modern legislation
enhances your customer service and your brand reputation
What is Cold Chain Logistics?
Cold Chain Logistics are the processes that are responsible for the safe transport of temperature-sensitive goods. They constitute processes such as the transportation of meat, seafood, all kinds of perishable food, medical supplies, vaccines, and pharmaceuticals. The cold chain also applies to all goods that are sensitive to heat, humidity, vibrations and shocks.
Securing the Cold Chain
What can you expect from effective Cold Chain technology?
AddSecure provides everything that a fleet needs to protect their clients' temperature-sensitive goods and remain compliant. The system comprises the following features –
Delivery tickets, journey tickets and multi-day printouts, all of which provide clearly printed graphical and numerical proofs of temperature.
EN 12830, Class 0.5 Certified, EN13486 Compliant, E11 Certified, conforms with BS AU 243 (ISO7637-1) Grade 4 and EN 61010-1 (Electrical Safety)
Multi-lingual operating languages – English, French, German, Spanish, Italian, Portuguese, Polish and Dutch.
Solid state memory that uses numerous temperature probes to collect and store up to 2 years of temperature data.
Enhanced blue on black OLED (Organic Light Emitting Diode) display to facilitate easy reading.
8 temperature alarm sets providing clear visibility of out-of-range alarms.
Up to 8 switch inputs (typically, door, defrost, fridge power and user-defined).
A single print button provides quiet, high-speed thermal printing.
A USB port enabling easy download of temperature data onto any PC.
Up to 8 independent temperature sensor inputs.
A humidity sensor.
What are the benefits of effective cold chain management?
Compliance
From the first collection through to delivery, audit trails and temperature audit logs ensure that your fleet remains industry-compliant. The AddSecure solution is HACCP, BRC, GDP and GAMP5 compliant.
Protection of goods
Real-time monitoring of the temperature of your goods means that they will always be transported at optimum temperatures. Also, your fleet manager will know that they will be instantly alerted of any temperature breaches.
AddSecure's fully integrated, real-time temperature monitoring solution, uses
live temperature status updates
threshold alerting and
switch status notifications
to proactively highlight temperature issues before they become a serious problem.
AddSecure Temperature monitoring allows issues to be proactively addressed before the efficacy of a load can be compromised
A positive customer experience
Your customers will gain confidence in the reliability of your service. They'll be kept in the loop with live alerting and proof of temperature reports, as well as full audit logs of each journey.
What to look for in a Cold-chain solution
Flexibility is the key. We'll customise our wired and wireless temperature monitoring solutions and data loggers to suit your precise requirements. Our system provides up to 8 temperature sensor probes per vehicle. Each probe has its own configurable threshold setting as well as an extra 8 switch status inputs for external factor notifications (such as door opening alerts, defrost mode and fridge on/off status). You'll be able to relax in the knowledge that your perishable goods are being maintained in exactly the right temperature conditions.
Enjoy the benefits of the most up-to-date Cold Chain technology.
The AddSecure system is the go-to platform for transporting temperature-sensitive goods. Give yourself and your customers complete peace of mind with cold chain technology that keeps you compliant and your perishable goods safe and in optimum condition.