Enable efficient communication and offer pedagogic tools for time- and salary management
Take control of the working times and secure right salaries are paid
Offer your teams a complete view of the drive- and resting times
Use tools for registering non-driving activities qualified for payment
Communicate with your drivers and help them reaching destinations via tools for navigation
Save everyone's time through an automatic download of the legal files
Services within Driver Management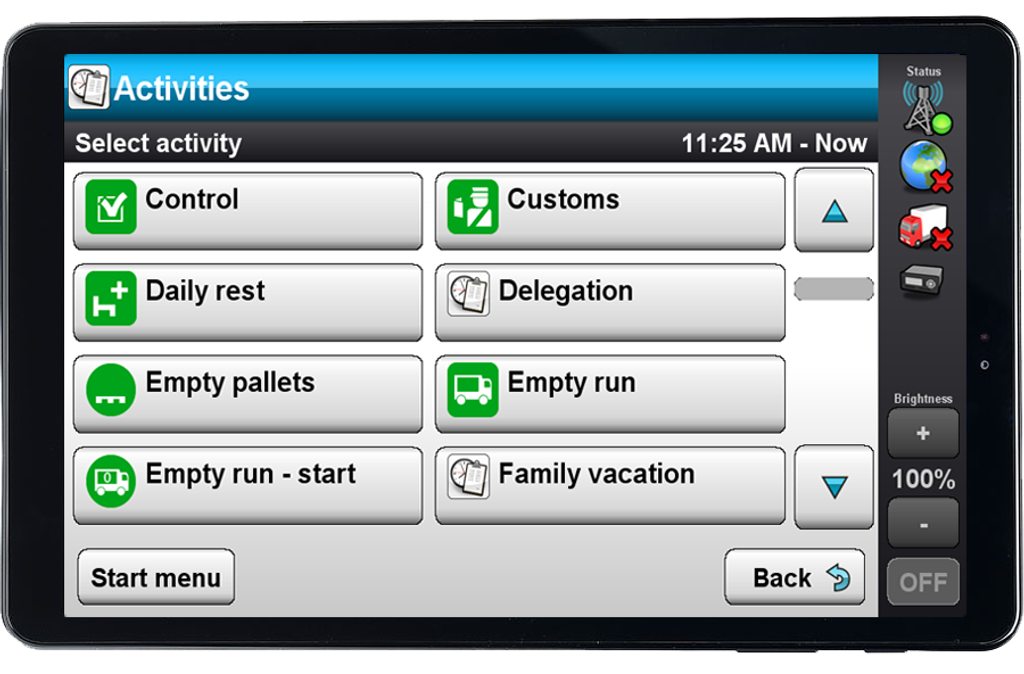 Qualified Activities
Easily analyze the non-driving activities you are interested in

Use the information to optimize your operations

Leverage your data in negotiations to justify your invoicing

Monitor waiting times, empty kilometers, pallets, etc.

Follow up cleaning, loading/unloading (e.g. quantities)
Product Sheet: Qualified Activities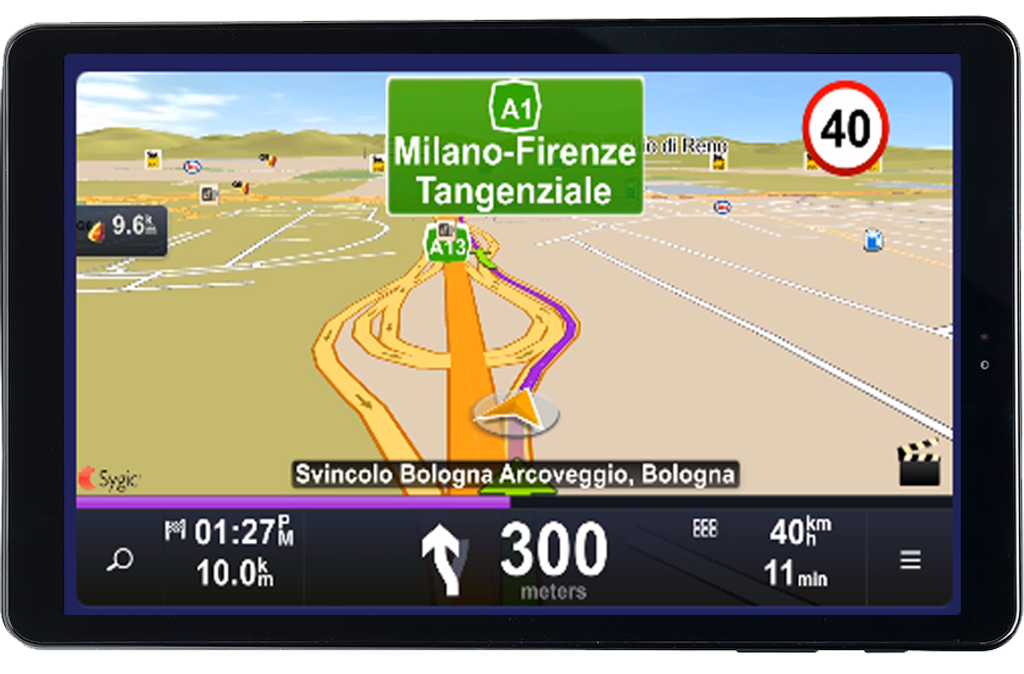 Navigation
Make sure your drivers find the optimal way to their destinations

Use truck attributes and commercial routing to avoid unwanted routes

Never waste time searching for an address and optimise the routes

Three years license fee for maps included

Integrated with fleet management services (Messages, Missions)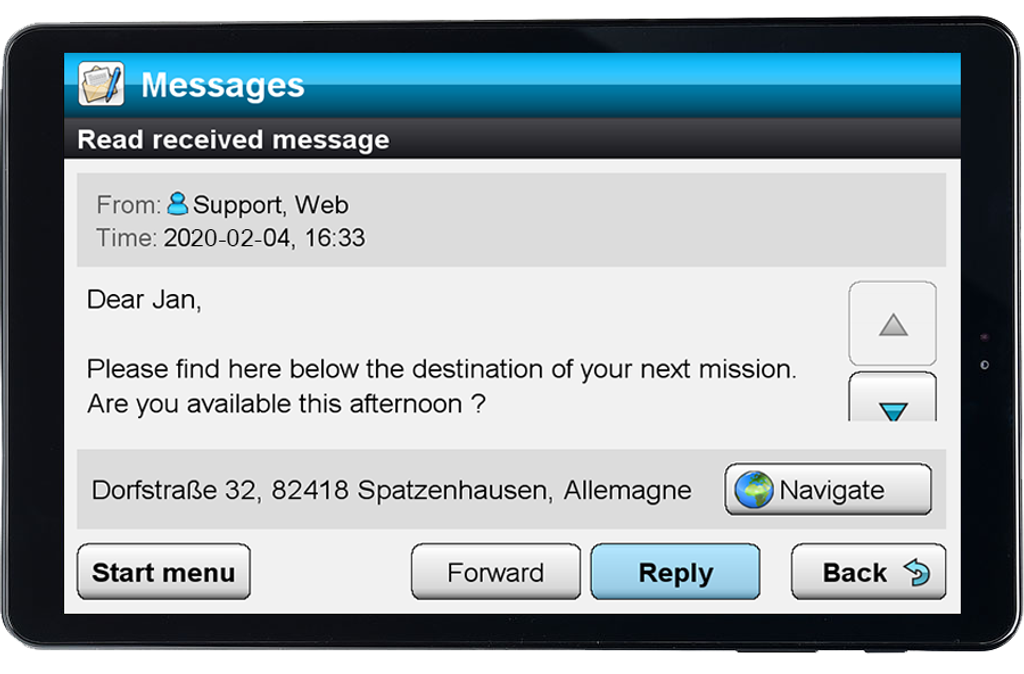 Messages
Ensure an always reliable and archived exchange of information

Get better operational insights from accurate driver feedback

Reply faster through real-time communication with your drivers

Copy messages or use predefined answers to save time

Use your usual mailbox through mail forwarding.
Product Sheet: Messaging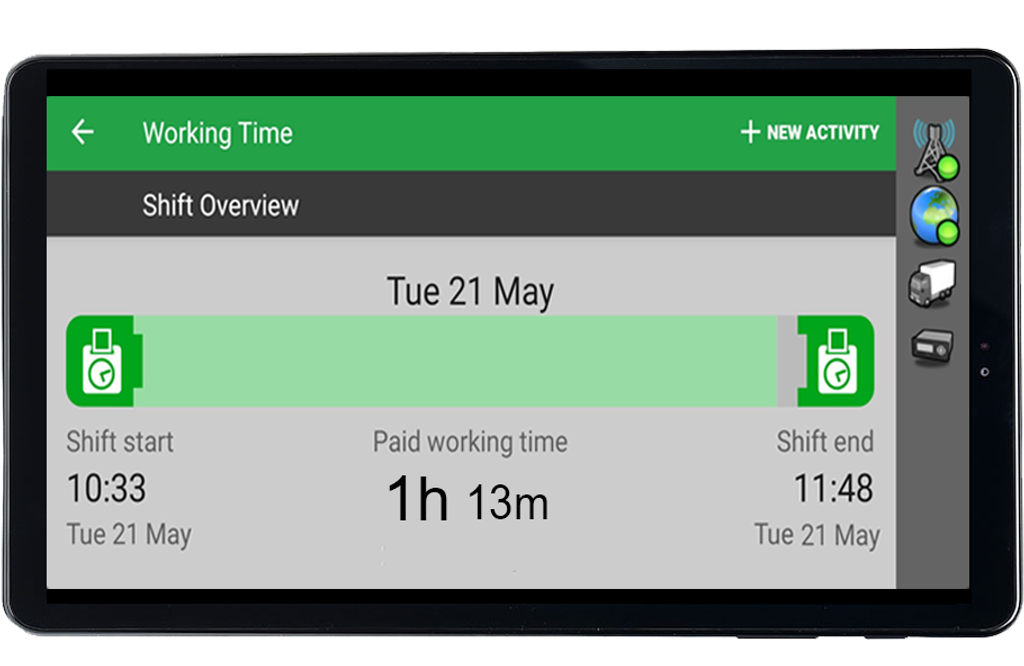 Working Times Reporting
Working hours are reported during the actual work

Better control of the drivers' working hours

Intuitive tool that is easy to use for the driver

Minimize expensive overtime by planning

Easier to deal with problems and deviations
Product Sheet: Working TImes Reporting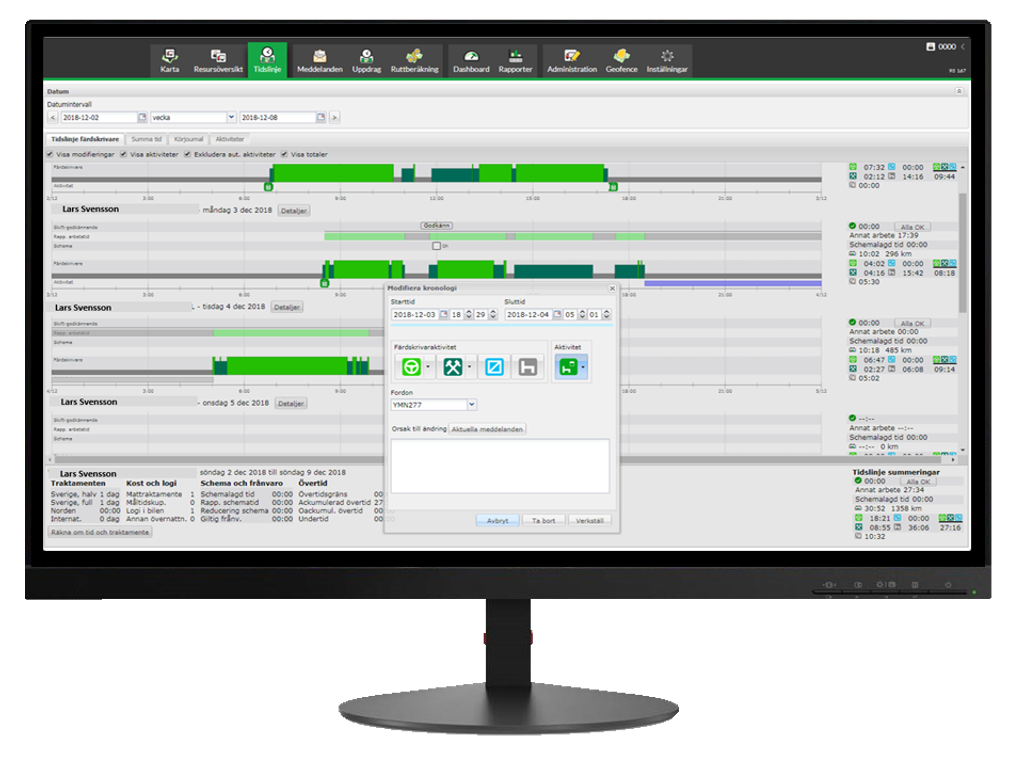 Salary Administration
Manage both working times and salary administration in ONE system

Full control over the payroll management

Enable efficient review, edit and approval of drivers' salaries

Replace the need for a separate payroll administration system

Easier to deal with problems and deviations
Product Sheet: Salary Administration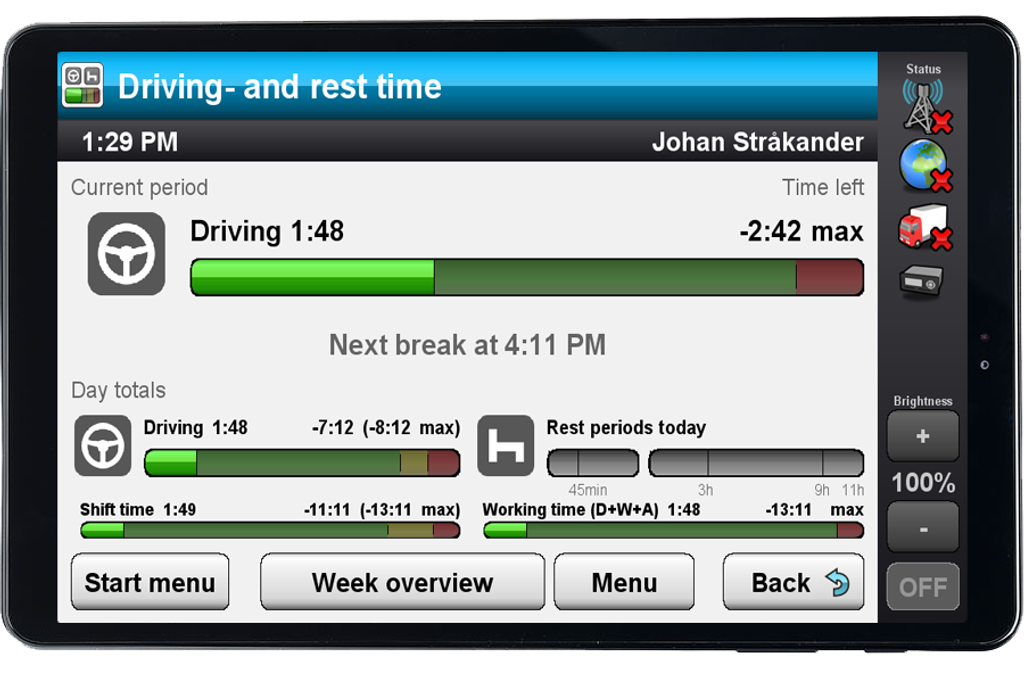 Drive- and Resting Times
Get a complete view of the drive- and resting times of your drivers

Adapt the missions to the time constraints of drivers

Prevent violations and let your drivers be reminded by notifications

React immediately in case of violations through alerts

Analyze and edit the chronology in the timeline
Product sheet: Drive- and Resting Times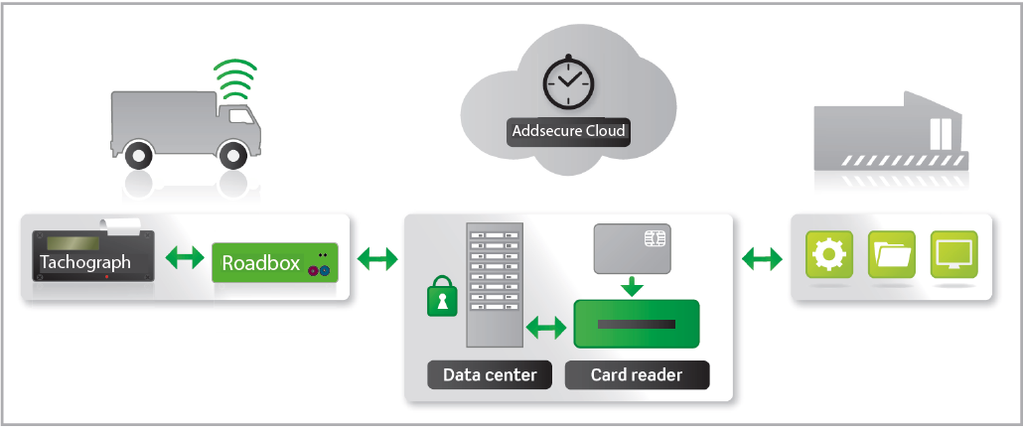 Remote Tacho Download
Save time through automatic file download from tacho and driver card

Make sure every file is downloaded at the right time

Avoid vehicle immobilization and ensure regular downloads

Simplify your work through hosting the company card at AddSecure
Product Sheet: Remote Tacho Download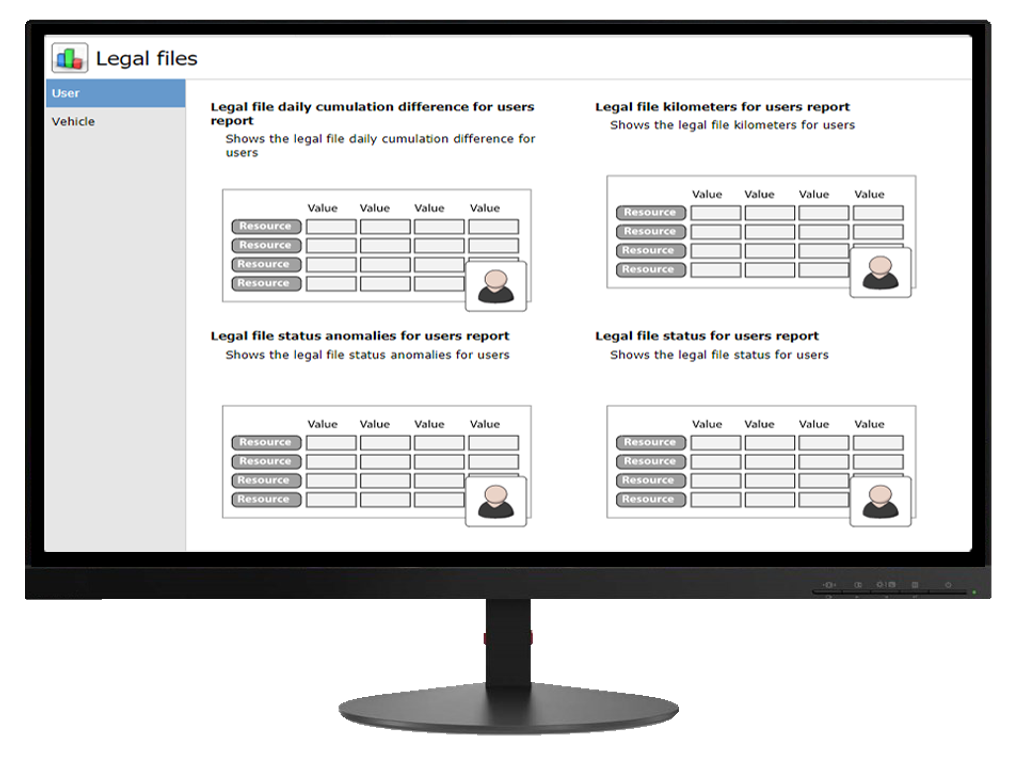 Storage and Analysis of legal files
Store your digital tachograph data in a secure environment

Easily follow up risk of delays, late downloads or missing data

Meet legal tachograph and driver card download storage obligations

Automatic control of violations- data is compared with regulations
Product Sheet: Storage and Analysis of legal files
Read more!
Let your office team collaborate efficiently with the field through our android app for professional drivers, the Co-Driver App by AddSecure.
To run our services you need our hardware to be installed in your vehicles. Our large network of service partners makes this easy.
AddSecure Vision is an android screen (7') for commercial vehicles for seamless interaction with your drivers.