In this article, we are exploring how a solution for fleet and transport management can support the shift to Electrical Vehicles (EVs). 
Let a solution for fleet and transport management help you shift to EVs
Systems for fleet and transport management (FMS/TMS) offer valuable insights when considering a shift to EVs. They offer insights into the existing fleet and transport operations, considering fuel consumption, driving behavior, past trips, mileage, stops, order data and other crucial information. Analyzing this information builds a clearer understanding of whether an EV is a good replacement or whether another type of vehicle would be a better choice.
For fleets that already have EVs, FMS/TMS can offer useful information, such as the vehicles charging level and the location of charging points. Advanced solutions can present detailed real-time information about charging stations, occupied/free status, opening hours and booking of charging slots. Fleet managers can also take the current battery level and the remaining driving distance of an EV into account when planning a sequence of orders or choosing a vehicle for a job. They can access reports to track when, where and for how long their EVs were plugged in for charging, giving insight into why their EVs are at their current charge level.
Since driving behavior has a great impact on the range, one of the most important features of a telematics solution is insights into how the drivers' behavior on the road is affecting range
and charging. For example, harsh braking, speeding, or fast acceleration will dramatically impact the range. With this data at hand, you can see where your drivers are wasting energy and take steps to improve their driving behavior to ensure the range is kept at optimal levels.
Furthermore, an FMS can optimize the charging scheduling. By knowing how much charge a vehicle has, and how far it needs to travel to the next job, they can decide whether it is worth charging it at peak time or at a later stage to avoid high charging costs. A fleet management solution can also show how cost effective the addition of EVs has been to the fleet, by comparing consumption and costs of the EVs with the other vehicles in the same report.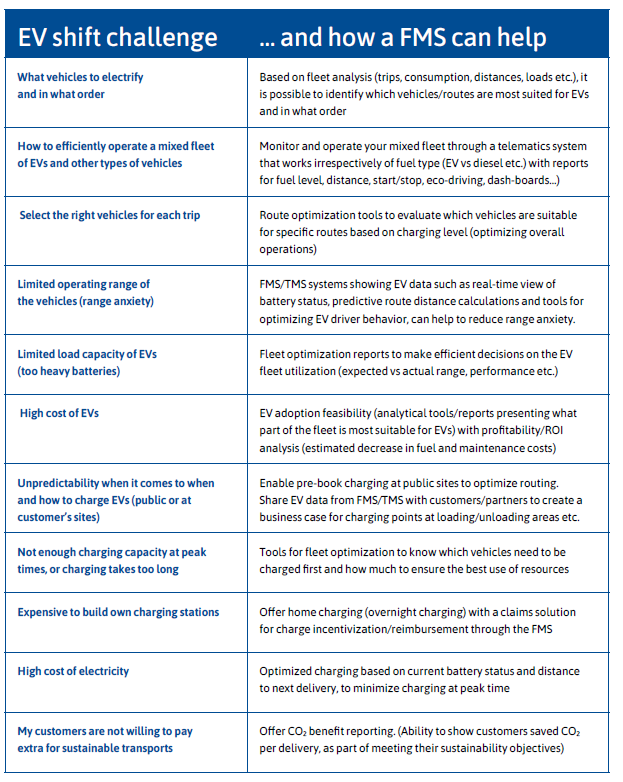 Contact us today to hear more about our sustainable solutions for optimized fleet and transport management.